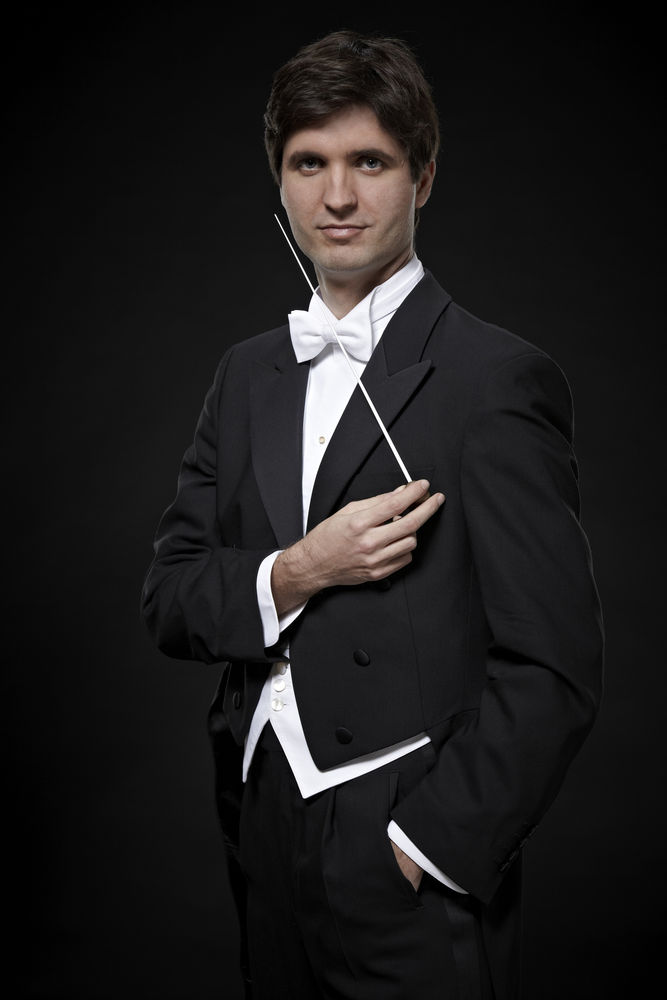 Azis Sadikovic

Various projects

Born
Vienna

Studies
Vienna

Highlights
Prices
2.Place International Solti-Competition
1.Place Concurso Jovens Maestros 2013
3. Place Grzegorz Fitelberg International Competition 2012

Recordings
Kurzbiographie
The Austrian conductor is the winner of the 1st prize and the Caixa-General special prize at the Concurso Jovens Maestros 2013. Furthermore he is the winner of the 2nd prize at the Solti International Conducting Competition 2017 in Hungary and the winner of the 3rd prize and the bronze baton at the renowned Fitelberg International Conducting Competition 2012.

He conducted the Wiener Kammerorchester, the Danish National Radio Orchestra, the Symfonieorkest Vlaanderen, the Jyväskylä Sinfonia Finlandia, the Óbudai Danubia Orchestra, the Filharmonia Slaska, the Philharmonie Jena, the Kärntner Symphonieorchester, the Innviertler Symphonie Orchester, the Wiener Akademische Philharmonie, the Croatian Chamber Orchestra, the Philharmonie Zielonogórskiej, the Brandenburgisches Staatsorchester Frankfurt/Oder, the Slovak Philharmonic, the Symphony Orchestra Niš, the Manhattan School of Music Symphony Orchestra New York, the Guildhall School of Music and Drama Symphony Orchestra and the Prague National Theatre Orchestra. From 2007 to 2012 he was chief conductor of the Akademisches Symphonie Orchester Wien and he founded his own orchestra in 2007, the Ensemble Wien Klang. In 2019 he will conduct the Györ Philharmonic Orchestra and the Franz Liszt Chamber Orchestra.

A large operatic repertoire – stretching from Gluck's Orfeo et Eurydice to Mozart's Don Giovanni and Beethoven's Fidelio to Wagner's Tannhäuser – Azis Sadikovic has been working for, also at Nationaltheatre in Prague, Opéra National du Rhin in Strasbourg, Staatstheater Darmstadt and Stadttheater Klagenfurt. Furthermore in 2015 he assisted at the Teatro dell'Opera di Roma at Henze's The Bassarids. In 2013, he last conducted a prominently casted production of Strauss' Ariadne auf Naxos at Palais Schönburg Vienna and, in 2011, the first staging of Polgar's Das Budapest Verhör at Theater am Nestroyhof, Vienna. 2018 he made his debut at the Bayreuther Festspiele on the occasion of the 10th anniversary of the children's opera with a specially designed version of the "Ring des Nibelungen". As part of this project he will conduct "Die Meistersinger" in 2019.
Azis Sadikovic worked together with numerous members of the Wiener Philharmoniker and Berliner Philharmoniker. He performed with soloists such as Jonas Kaufmann, Julian Rachlin, Andreas Schager, Elena Maximova, Bo Skovhus, René Pape, Hila Fahima, Kristin Lewis, Natalia Ushakova, Florian Boesch, Mojca Erdmann und Tomasz Konieczny. The young conductor shows great interest in contemporary music. Azis Sadikovic is also active in music mediation projects: In spring 2019 he will work with the Tonkünstler Orchestra and in January 2020 with the Deutschen Radio Philharmonie.

2018/2019
This biography is for website use only. For a full and updated biography, please email office@msbuhl.com
If you wish to revise, or receive a full and updated biography, please contact Mark Stephan Buhl Artists Management (office@msbuhl.com). Please use material of the current season only.